Limited Edition Olivia Holt Cupcakes 25-Pack
Available from 09/14 to 09/28
NO LONGER AVAILABLE. We've got cupcakes that everyone will love no matter what. Shop our current menu now!!
A new collab with singer & actress Olivia Holt! This limited-edition 25 pack of cupcakes was handpicked by Olivia and showcases all of her fave flavors like Cookie Dough, S'mores, and Cake Batter Crumble, plus an exclusive new flavor Olivia created herself: 'Shake Your Cupcake.' Inspired by her new single "Next," this flavor is made with red and pink tie-dye vanilla cake stuffed with brownie batter, iced with cake batter, and topped with an oreo cookie. To quote Olivia herself, it's "sassy and delicious!"
Click here to stream Olivia's new single "Next".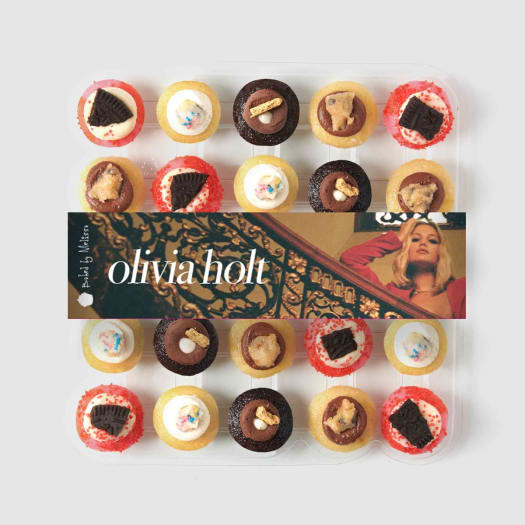 Bite Size

Kosher

Limited Edition
Flavors Breakdown
Shake Your Cupcake

Pink & Red Tie-Dye Cake, Stuffed with Brownie Batter, Topped with Cake Batter Icing and Oreo Cookie with Red Nonpareils

Cookie Dough Cupcake

Yellow Cake with Cookie Dough Filling, topped with Chocolate Icing and Cookie Dough

Cake Batter Crumble Cupcake

Yellow Cake, Stuffed with Dulce de Leche, Topped Cake Batter Icing and Sprinkle Streusel

S'mores Cupcake

Chocolate Cake, Stuffed with Marshmallow Fluff , Topped with Chocolate Icing and Graham Cracker Piece
All of our products are made in a bakery that processes peanuts and tree nuts
Shipping & Delivery
7 Days A Week

Order anytime! For next day-arrival, order Monday - Friday by 2PM ET. Sunday arrivals available in select areas.

Courier Delivery & In-Store Pick Up

Same day cupcake delivery and in-store pick up available, 7 days a week in Manhattan Only! (Available at select locations for select products).

Planning ahead?

We make it easy. You can place your order up to 365 days in advance!
Freshness and Storage

Our bite-size treats are packaged in custom-made, clamshell-like packs that stay safe & fresh for up to 2 weeks when stored in the freezer, and up to 48 hours room temp when stored in the closed pack. Everything ships fresh & sealed from our bakery to your door, anywhere in the US. Remove from freezer 20 - 30 minutes prior to serving for optimal deliciousness!

Serving Suggestion

We recommend 4-5 treats per person if our treats are the main dessert and 2-3 treats per person if other desserts are being served.