Holiday Six Mix Cupcakes 6-Pack (Bundle of 4)
Available from 11/18 to 01/04
Grab a mix of our festive mini 6-box gifts for the holidays! Each of these festive gift boxes contain six limited edition holiday cupcakes. Flavors include Caramel Hot Cocoa, Christmas Cookie, Chocolate Babka, Double Cookie, Chocolate Blackout & Festive Babka. The perfect last-minute gifts for Christmas, Hanukkah & beyond.
PRO TIP: Order now, schedule a cupcake delivery in time for the holidays.
Read Less

about this product Holiday Six Mix Cupcakes 6-Pack (Bundle of 4)
NO LONGER AVAILABLE. New Holiday Treats will be back next year! In the meantime, we've got cupcakes that everyone will love no matter what. Shop our current menu now!!
Each 6-Pack Includes:
1 x Caramel Hot Cocoa
1 x Chocolate Babka
1 x Chocolate Blackout
1 x Christmas Cookie
1 x Double Cookie
1 x Festive Babka
Learn More About These Flavors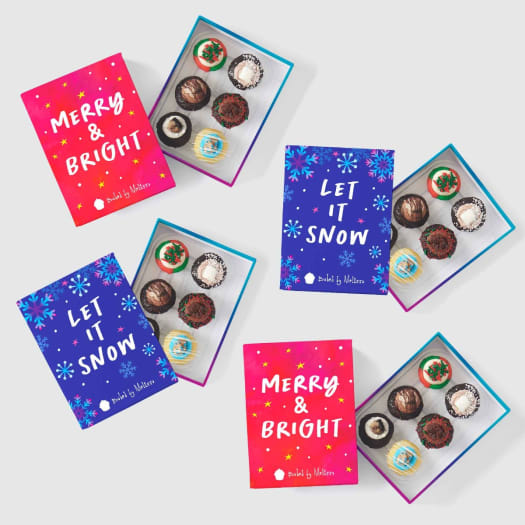 Bite Size

Kosher

Limited Edition
Flavors Breakdown
Caramel Hot Cocoa Cupcake

Chocolate Cake, Stuffed with Dulce de Leche, Topped with Hot Cocoa Icing and Mini Marshmallow & White Nonpareils

Chocolate Babka Cupcake

Chocolate Cake, Stuffed with Cinnamon, topped with Chocolate Icing & Cinnamon Crumble & Chocolate Drizzle

Chocolate Blackout Cupcake

Chocolate Cake, Stuffed with Dark Chocolate Salty Ganache, Topped with Chocolate Icing and Brownie with Pink & Red Nonpariels

Christmas Cookie Cupcake

Red & Green Tie-Dye Cake, Topped with Sugar Cookie Icing and White Chocolate Red & Green Sprinkle Brittle

Double Cookie Cupcake

Chocolate Cake, Stuffed with Cookie Dough, Topped with Cookies & Cream Icing and Oreo & Cookie Dough Piece

Festive Babka Cupcake

Yellow Cake, Stuffed with Biscoff, Topped with Electric Blue Vanilla Icing and White & Blue Sprinkle Streusel with White Chocolate Drizzle
All of our products are made in a bakery that processes peanuts and tree nuts
Shipping & Delivery
7 Days A Week

Order anytime! For next day-arrival, order Monday - Friday by 2PM ET. Sunday arrivals available in select areas.

Courier Delivery & In-Store Pick Up

Same day cupcake delivery and in-store pick up available, 7 days a week in Manhattan Only! (Available at select locations for select products).

Planning ahead?

We make it easy. You can place your order up to 365 days in advance!
Freshness and Storage

Our bite-size treats are packaged in custom-made, clamshell-like packs that stay safe & fresh for up to 2 weeks when stored in the freezer, and up to 48 hours room temp when stored in the closed pack. Everything ships fresh & sealed from our bakery to your door, anywhere in the US. Remove from freezer 20 - 30 minutes prior to serving for optimal deliciousness!

Serving Suggestion

We recommend 4-5 treats per person if our treats are the main dessert and 2-3 treats per person if other desserts are being served.