Valentine's Day Gift Guide
They say the way to anyone's heart is through their stomach, and it'll be love at first sight with these mini cupcakes! Our bite-size treats come in a variety of decadent flavors (including gluten free and vegan) and drool worthy assortments. We have Valentine's Day gifts for all of the special people in your life. Whether you schedule arrival or send cupcakes last minute, we have everything you need to make this Valentine's Day the sweetest one yet!
Most Popular Gifts
Nothing says Valentine's Day more than something sweet you can eat. Take a look at some of our most popular Valentine's Day gifts for a completely stress free shopping experience. In addition to our delectable assortments, we also offer Valentine's Day gift boxes and cards for the ultimate gifting experience.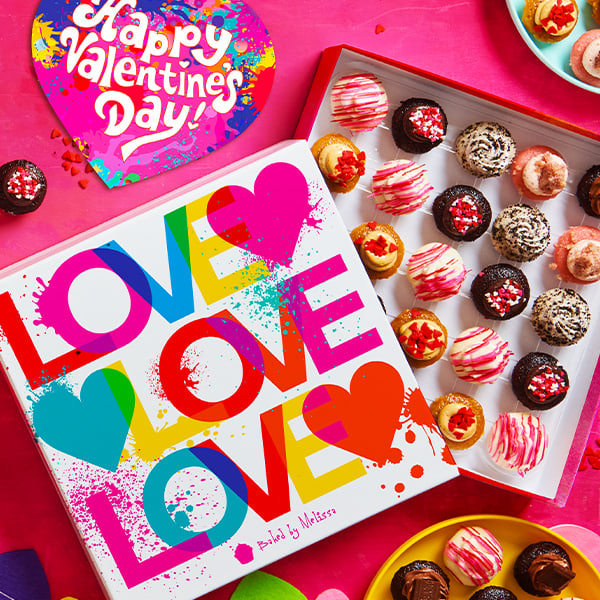 Love Gift Box 25-Pack
The perfect Valentine's Day gift for him and for her! Nothing says "I Love You" like handcrafted bite-size cupcakes. This assortment includes 6 mouthwatering flavors and comes wrapped in our ultra-luxe gift box.
Shop Now
All My Valentines 6-Pack
These 6-Packs are the ultimate Valentine's Day gift for kids, friends and coworkers! This bite-size sampling of our Valentine's Day collection, complete with an adorable gift box is the sweetest way to make someone's day.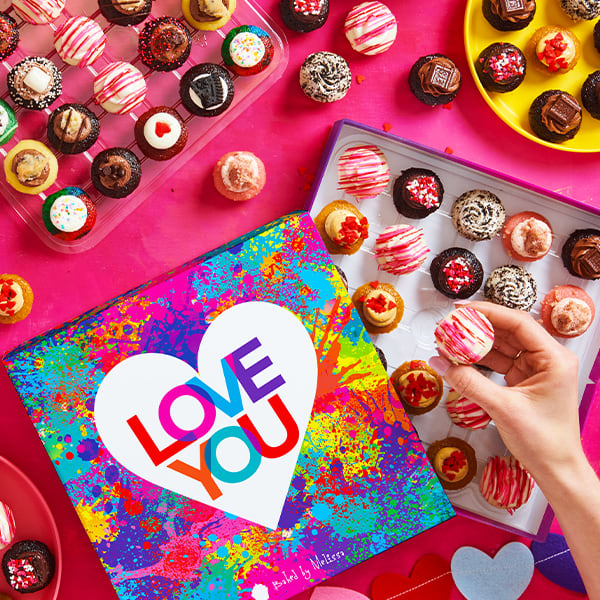 Sweetheart Gift Box 50-Pack
No Valentine's Day is complete without something sweet to snack on! With 16 different flavors, this 50-pack is the only Valentine snack you need!
Valentine's Day 3-Pack (Bundle of 12)
Need a small Valentine's Day gift idea? We've got you covered with these festive 3-packs! Kids will go crazy for bite size goodies and these nut free Valentine's Day treats are perfect for the classroom!
Frequently Asked Questions
We ship to all 50 states via FedEx and CDL Last Mile using custom packaging & ice packs to keep your treats fresh in transit!
Yes! You can schedule your cupcake arrival ahead of time! Simply choose 'Select a Future Arrival Date' in the Shipping Preference section in checkout. We recommend choosing an arrival date 1-2 days in advance of holidays or special occasions. Sometimes high order volume times or weather conditions can make FedEx's and CDL Last Mile's operational schedule a little wacky!
For Gifts, we like to use this rule of thumb: 25 Cupcakes for 1-2 people, 50 Cupcakes for 4-8 people, and 100 Cupcakes for 8-12 People. For events, if this is the only dessert, people usually eat 4-5 cupcakes. For the little ones, we recommend 1-3.
We'll send you emails every step of the way, but you can also click your tracking number in your order confirmation email!
Absolutely! After adding the items to your cart, click the "Checkout with Multiple Addresses" link in either the cart fly-out tab or the cart page to begin the multi-address checkout process. Have questions? We have answers here.
Galentine's Day
Not a fan of Valentine's Day? Then Galentine's Day is for you. Galentine's Day is a day to celebrate all of your best gal pals and all of the amazing women in your life. Friendship is the best ship and our mini cupcakes & gift boxes are perfect to help you celebrate with your besties. Whether you're looking for Galentine's Day gift ideas or treats for your Anti-Valentine's Day party, we've got everything you need to make this holiday (or anti-holiday) the sweetest one yet!
Valentine's Day 50 & 100-Packs
Nothing is better than dessert that doubles as decoration! Our bite-size cupcakes are handcrafted and with 15 different flavors, our assortments have something for everyone. Create the ultimate tablescape with our 50 & 100 packs.
Shop Now
Valentine's Day 3-Packs (Bundle of 4)
This bite-size sampling of our Valentine's Day collection is the perfect Valentine for your bff's, your sister, or anyone really. PS. They also make amazing party favors!
Looking for more party inspo? From cupcake/wine pairings to how to construct a dessert board that will leave a lasting impression, our blog has everything you need to throw the best Galentine's Day party.
Specialty Diets
We believe in dessert for everyone and Valentine's day is no exception. Make this day one to remember with the best gluten free Valentine's treats. Follow a Vegan diet? We have Vegan Valentine's Day cupcakes too! For the macaron lovers out there, our tasty macarons are naturally gluten free and we offer macaron delivery nationwide!