Available from 06/01 to 07/06
Rainbow cupcakes to celebrate Pride month! Our Pride cupcakes come in six handcrafted, colorful, bite-size flavors including Red Vanilla, Orange Vanilla, Yellow Vanilla, Blue Vanilla, Green Vanilla and Purple Vanilla! All wrapped up in a free rainbow gift wrap sleeve! The sweetest part? 10% of net proceeds from the sales of our Pride desserts will be donated to The Lesbian, Gay, Bisexual & Transgender Community Center in NYC.
Read Less

about this product Pride Cupcakes
Flavors Included
5 x Orange Vanilla
4 x Yellow Vanilla
4 x Red Vanilla
4 x Green Vanilla
4 x Blue Vanilla
4 x Purple Vanilla
Learn More About These Flavors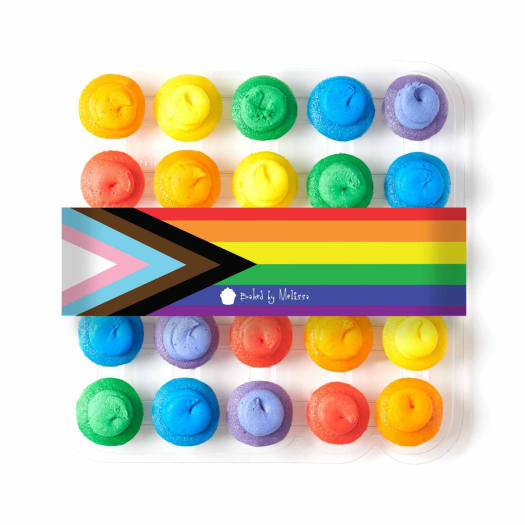 Bite Size

Kosher

Limited Edition
Flavors Breakdown
Orange Vanilla Cupcake

Orange Vanilla Cake, Topped with Orange Vanilla Icing

Yellow Vanilla Cupcake

Yellow Vanilla Cake, Topped with Yellow Vanilla Icing

Red Vanilla Cupcake

Red Vanilla Cake, Topped with Red Vanilla Icing

Green Vanilla Cupcake

Green Vanilla Cake, Topped with Green Vanilla Icing

Blue Vanilla Cupcake

Blue Vanilla Cake, Topped with Blue Vanilla Icing

Purple Vanilla Cupcake

Purple Vanilla Cake, Topped with Purple Vanilla Icing
All of our products are made in a bakery that processes peanuts and tree nuts
Shipping & Delivery
7 Days A Week

Order anytime! For next day-arrival, order Monday - Friday by 2PM ET. Sunday arrivals available in select areas.

Courier Delivery & In-Store Pick Up

Same day cupcake delivery and in-store pick up available, 7 days a week in Manhattan Only! (Available at select locations for select products).

Planning ahead?

We make it easy. You can place your order up to 365 days in advance!
Freshness and Storage

Our bite-size treats are packaged in custom-made, clamshell-like packs that stay safe & fresh for up to 2 weeks when stored in the freezer, and up to 48 hours room temp when stored in the closed pack. Everything ships fresh & sealed from our bakery to your door, anywhere in the US. Remove from freezer 20 - 30 minutes prior to serving for optimal deliciousness!

Serving Suggestion

We recommend 4-5 treats per person if our treats are the main dessert and 2-3 treats per person if other desserts are being served.